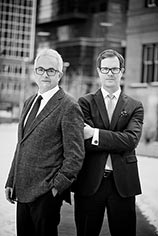 Batting, Wyman barristers – Calgary's criminal defence lawyers
Batting, Wyman Barristers are well known as one of Calgary's top criminal defence lawyers that can help you with a wide variety of criminal charges. Our experienced criminal defence lawyers can provide you with the strongest legal representation in a variety of areas.
We do offer a FREE 30-minute consultation for all new charges, so do take advantage of this to see if we are a fit for you. Our firm has well over 25 years in Albertan law experience, which is key when choosing your new legal representation team.
25+ years of experience defending individuals against criminal offences
Batting, Wyman Barristers are committed to defending individuals charged with criminal offences and obtaining the best possible results for their cases. Batting, Wyman Barristers have one of the top criminal lawyers in Calgary, serving clients in the city as well as surrounding areas such as Airdrie, Cochrane, Okotoks, Didsbury, Turner Valley, Strathmore and Canmore.
Impaired Driving Charges
Domestic Assault Charges
Sexual Offences
Drug Charges
Theft Charges
Fraud Charges
Youth Charges
View our Law Services page to learn more.
---
---
What our clients say about us
"Over the last six years you have been involved with my former foster child, "J", as he has struggled with various aspects of the legal system. I feel it is important to acknowledge my sincere gratitude and admiration regarding your qualities of professionalism, advocacy and, most important, compassion. I know that "J" has never felt judged or shameful in your presence, he knows he is accepted for who he is and the potential of who he can yet be. But it speaks to your commitment and understanding of marginalized adolescents in our society and how we must accommodate disparities they have in their ability to negotiate the world. "J" may continue to struggle with life and the justice system; however, he will have seen a kind, decent professional reach out his hand and show him that those in the legal system can be among the best people he will ever know. Thank you so much for all you have done."
– D.M.
"Mr. Batting was referred to me through a friend and since meeting Robert I could see his professionalism and his genuine concern of my case. A very positive outcome was achieved in court by his dedication to research familiar cases and his mannerisms in the court room. His assistant Sue was an absolute pleasure to work with, she was also very attentive with my concerns and questions and was the perfect liaison between Robert and I. I would highly recommend Mr. Batting to anyone finding themselves in an unfortunate circumstance."
– P.M.
"From the moment I first contacted Mr. Wyman regarding a driving offence, I felt confident that my case was in the best possible hands. His knowledge and experience were very helpful during a stressful time for me and my family. Mr. Wyman is a considerate and dedicated lawyer. I am grateful that he was able to achieve such a positive outcome for me."
– L.P.